Little Women is a place for girls to
Belong, Believe & Become.


BELONG | Little Women is a place for girls to belong. It is a safe place where girls can be sure they will be loved and accepted. Ultimately, we want Little Women to be a place where girls find their security and identity as a child of God.
BELIEVE | Little Women is a place for girls to grow in their understanding of God and in their relationship with Jesus Christ as their Savior. Little Women is a place where girls are reminded that they are fearfully and wonderfully made by the Creator of the universe and that they are loved beyond measure. Little Women is a place where girls will learn that regardless of what happens in their life – God is faithful – and they are never alone!
BECOME | Little Women has an Intern Program for young women to learn how to serve the Lord and their community. These young women (7th grade and up) help to teach, mentor, plan activities and serve as role models for the girls throughout the evening.
---
Little Women 2020 will start as we did this past Spring. In December, we will re-evaluate how to finish out the year with the hopes we can complete the year in person. For this reason, we are only having families register for half the year, so you can make the best decision for your family and your girl.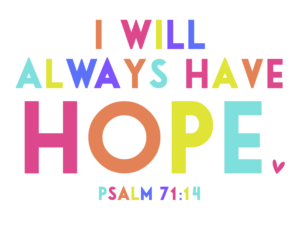 This year's theme is HOPE!  Our theme verse is Psalm 71:14:  "But as for me, I will always have hope."
We will be looking at the Women in the lineage of Jesus and how Hope played a part of their stories!

Invite your friends and neighbors using THIS FLYER.
The cost for 3 months (now Oct-Dec) will be $40 and includes a t-shirt.
Girls (Grades K-6) and Interns (Grades 7-12) can register for Little Women HERE.
We do not want the cost of Little Women to be prohibitive for any family or any girl. If the cost presents a hardship for your family, please let us know! For more information about Little Women please contact Katie Covert, our Little Women Director.
Save