The Training Ground is our adult bible study classes on Sunday mornings from 9:30-10:15 am where you have the opportunity to learn more about applying Scripture to every area of your life. Join us for an adult interactive class with practical steps and resources for a deeper walk. There are also small group Bible Studies for students in 5th-12 Grades. Childcare for children (in grades Kindergarten through 4th) is provided.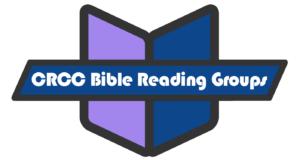 The CRCC Bible Reading Groups (one for women, one for men) were designed to foster daily Bible reading within the church, and can provide tips, resources, accountability, and most importantly encouragement as we take this Bible reading journey together. We follow a chronological plan to understand the Bible as one unified story, and go at a daily pace that will take us through the entire book in a year. Join in anytime!
To join the Women's Bible Reading Group, click HERE.
To join the Men's Bible Reading Group, click HERE.
You can download a copy of the One Year Chronological Plan HERE.
If you would like more information, contact Ken or Miriam Chan.